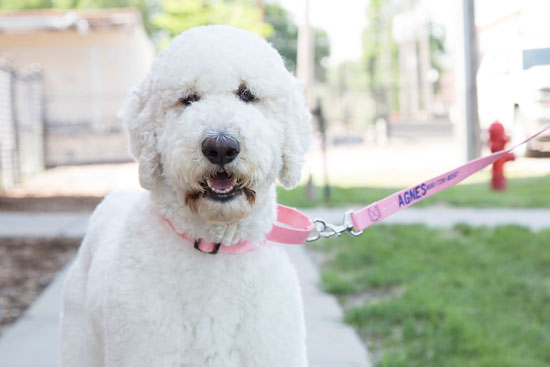 To train your dog to behave on the leash and on walks, the best dog collar for pulling is essential. The perfect choice varies among different dogs based on behavior, breed, and size. Standard collars that fit around the neck aren't ideal because when your dog pulls, a flat neck collar can put too much pressure on his or her trachea. Behavioral collars, such as choke chains and prong collars, can be dangerous if used incorrectly. Fortunately, dogIDs is here to help you figure out the best training collar for your pooch.
Back-Clip Harnesses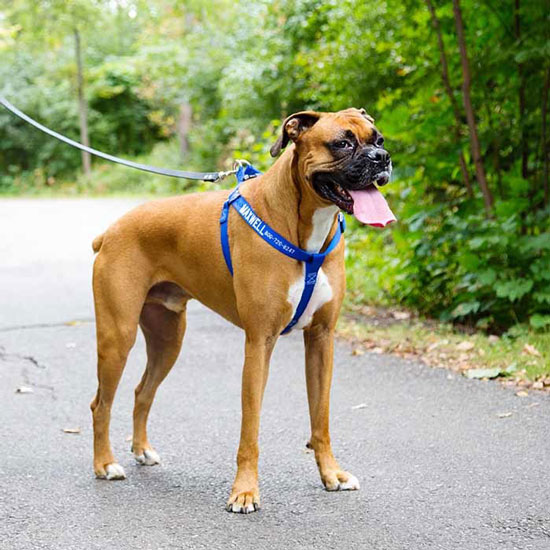 Embroidered Nylon Step-In Dog Harness
To guarantee that you have the best dog collar for pulling, you need to make sure that it fits your dog. For some pet owners, that means relying on a harness rather than a traditional collar. A back-clip harness, or step-in harness, has a hoop, link, or loop located on the dog's back, right between the shoulder blades. Because the harness fits around the chest, there's no danger of damaging the dog's trachea. It's an excellent pick for smaller pups, such as Chihuahuas and Terriers. Pooches with a tendency to pull might do better with a different option.
Front-Clip Harnesses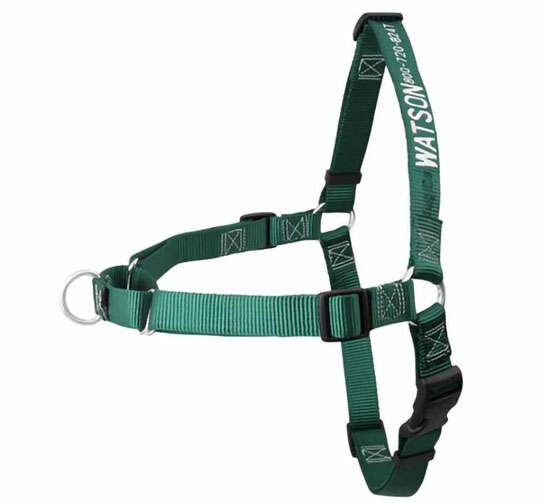 If you're searching for the best training collar for dogs that already have a pulling problem, consider a front clip harness instead. They're also helpful for larger, stronger breeds. With this harness, the lead's attachment is located in front, at the dog's chest. It eliminates pulling because it redirects your pooch, prompting him or her to follow you and diverting the pup from the distraction that's causing him or her to pull in the first place. Use a harness like this to loose-leash train your dog.
Martingale Collars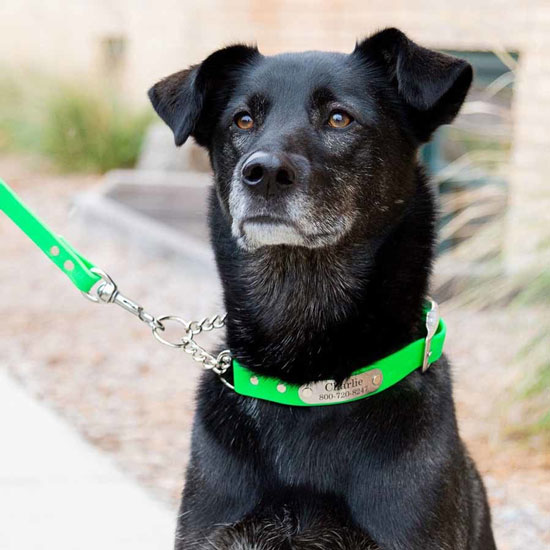 Waterproof Chain Martingale Collar with Engraved Nameplate
If you want your dog to have a more traditional neck collar, then consider a martingale collar. They're designed similarly to traditional dog training collars that go around the neck, but they have extra material that forms a loop. This loop causes the collar to become tighter when your dog pulls, but there's no danger of choking or tracheal damage as long as your dog wears the correct size. You can find an assortment of personalized martingale dog collars at dogIDs. The style is the best dog collar for pulling for pups with small heads who might be able to slip out of their collars.
Head Halters
Head halters, or head harnesses, make the best training collar for dogs who not only pull but also like to sniff for snacks along the sidewalk. It's more like a bridle than a muzzle because the dog can still open his or her mouth and give kisses. Stay away from head harnesses if your dog has any head or neck trouble, however.
Discover the best dog collar for pulling from the selection at dogIDs.