If you have a small dog, you know that finding the right collar for them is a big task. It seems that most collars don't come in small enough sizes or they are too bulky for your little pooch.
Why isn't there an option that looks good and will last a lifetime?
Well here's a secret - there is!
Waterproof collars are the perfect option for small dogs that are sick of wearing flimsy, local-pet-store collars.
And here's why…
They are SOFT
The material is called Soft Grip for a reason. It's incredibly smooth to the touch and won't crack under the pressure of harsh climates. There are no itchy fibers to worry about and all of the hardware is very sleek. These collars are so comfy, your dog will forget he's wearing it.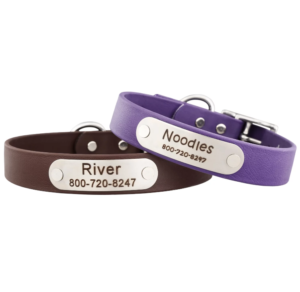 They are NOT Bulky
Finding a collar that looks classy but isn't going to weigh down your small dog's neck is quite the task. This is another reason why waterproof collars are so great. They're classy and stylish but not thick and heavy.
Our waterproof collars look like leather - but they're not. This means that they have all of the beauty and texture of leather without the bulk.
They also come in different widths, so your dog can have a collar that fits him perfectly.
They are WATERPROOF and ODOR RESISTANT
I don't know about you, but my small dog loves to squeeze himself into little spaces just to roll in something smelly. Waterproof collars are incredible because they don't hold onto odors. A simple wipe-down and it's good as new.
You no longer will have to worry about your dog's collar getting ruined by playing in the water. Remember how this material won't crack in harsh climates? Well, water isn't going to phase it either! The collar will still be looking sharp after many adventures through the pond.
They are QUIET
Say goodbye to the days of listening to your dog's hanging tag jingle with every step. Our waterproof collars remove the need for a hanging tag. Instead, a ScruffTag is built into the collar and sits on the scruff of your dog's neck. Or you can have a nameplate riveted onto the collar.
These options are also nice for small dogs because some hanging tags can be a big large. Little pups are already close to the ground - they don't need a tag dangling inches from their feet.
Skip the stress of buying flimsy collars that fall apart or collars that are too bulky for your small dog. A waterproof collar will have your dog more comfortable and stylish than ever.
And of course if your dog likes a little glitz, we've got something for them too!