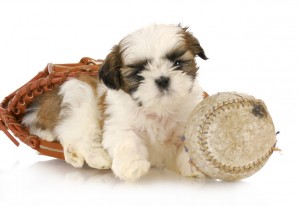 What Are the Best Dog Breeds for First-Time Pet Parents?
Every dog is an individual, regardless of her breed or mix of breeds. When you're thinking about getting a dog, you'll receive tons of opinions about which breed of dog is best for you and you'll have to take that advice in stride. For example, golden retrievers and Labs are often recommended as great family pets, but some retrievers can also be unruly and excitable.
I asked other dog experts for their opinions on the best breeds for first-time dog owners. Their responses are below, but keep in mind it's all a matter of opinion. The perfect dog for one person may not be the perfect dog for someone else. But that's a great thing about dogs! They come in a huge variety of sizes, personalities and energy levels.
So let's start out with mutts
When someone asks me what type of dog they should get, I typically recommend they go to a shelter and meet some adult mixed-breed dogs. That way the personality and energy level of the dog is usually established, and hopefully the shelter volunteers will know some details about the dog's history and behavior. This won't always work out perfectly, but if you take your time and ask the right questions, it's one of the safest ways to find the right dog.
"Adopting an adult dog is a great option for first timers," said Dr. Lorna Grande, a veterinarian with experience working in shelters. "A reputable shelter that evaluates temperament can tell you a lot about an adult dog."
Grande is the author behind PupQuest.org, a website that educates consumers on where and where not to get a dog.
"My advice would be to focus less on the breed and more on age and temperament that fit the prospective owners' lifestyles," she said. "For one person, an energetic, young, goofy boxer might be perfect but for someone else a 5-year-old retired greyhound might be more appropriate."
Grande added that some breeds are more challenging than others, but active, open-minded owners willing to train and exercise the dog daily could get along with most dogs.
"Don't we wish there were more of those owners out there?" she asked.
So besides certain mixed-breed dogs, what are some potential "easy" breeds?
Again, it's all a matter of opinion (please share yours in the comments!), but one recommended breed I kept hearing about was the greyhound.
Karen Goeller runs a greyhound walking group in New Jersey, and she highly recommends the breed as a first dog.
"They are gentle, affectionate, smart, do well in small spaces, and you are backed by a community of greyhound friends when you rescue a greyhound," she said. "It is like an instant family there to help with any questions for new greyhound owners."
Dog trainer Amy Robinson also recommends a greyhound.
They are large, but they love lounging on the sofa like cats and tend to be cooperative in training, she said. Robinson created a DVD called "Drool School," a family dog training guide featuring kids.
Other breeds Robinson recommends for first-time dog owners include three smaller breeds - the West Highland terrier (Westie), the Cavalier King Charles spaniel and the shihtzu (pictured).
She said Westies are generally sweet and petite, and they do well with obedience training. They are also nearly odorless.
Cavaliers are the "best of the spaniels" according to Robinson because they love people so much and are often used as volunteer therapy dogs. And finally, shihtzus are smart, easy to train on the basics and are very social. They just need to be groomed regularly.
Regardless of what type of dog you end up choosing, it's important to take your time, ask a lot of questions and consider your own lifestyle. How much time can you commit to training and exercising the dog? How long will the dog be left alone each day? What will you need as far as dog supplies? Do you need to consider the safety of your children or of your existing pets?
Luckily, with so many types of dogs to choose from, you will mostly likely be able to find the right dog for you.
Have you adopted a dog recently? Let us know in the comments!
What type of dog would you recommend for first-time dog owners?