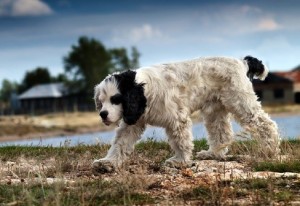 What should you do if you find a lost dog? Hopefully the dog will be friendly and wearing dog ID tags. That way, you could just contact the owner yourself. But we all know it's not always that easy. What if the dog is not wearing tags? Some lost dogs may not even be wearing collars. And some dogs may not be very friendly. The following are some ideas on what you can do to help a dog if you come across one that appears to be lost.
What to do if you find a lost dog
Check the dog for ID tags
If the dog is wearing ID tags, obviously that makes it a lot easier to contact the owner. The following story is a good reminder for all of us tomake sure our dogs are wearing tags. Kim Gauthier said she was driving her own dogs on a busy, country road. They were on their way to a park to go for a walk. She said she saw a "gorgeous" male bulldog running along the road, so she pulled over and called to him and got him into the back of her car. Obviously, you have to be somewhat careful about allowing a strange dog into your car, especially if you have your own pets along. In this case, everything worked out great. "I wasn't worried about how our dogs would react, because when I was outside the car with the dog, they just seemed happy and curious," Gauthier said. "The dog jumped right on in before I could really react, and our dogs had a new friend for an hour." Since they were headed to the park, she brought the bulldog along and then called the numbers on his tags. "The very happy and relieved dog owner showed up and even walked with us for a bit since our dogs were playing," she said. "The best part was that the owner was the huge, tough looking guy, and he melted when he saw his baby safe and sound."
What if the dog is not wearing tags?
Sandi Laird is the animal care director at Operation Kindness, an animal shelter in Carrollton,Texas. She gave me a couple ideas on what you can do if you find a lost dog without ID tags. First, if you live near a veterinarian's office, she said you can take the dog there to be scanned for a microchip. "If the dog has a chip, most veterinarians have the numbers to call to see who the dog belongs to," she said. "Sometimes, you'll find that the dog lives close by." City animal shelters also have scanners to check for microchips, she said. And if someone has lost a dog, the shelter is probably the first place they will call.
What if the dog is not friendly?
If the dog you find is not friendly, don't try to handle the dog, Laird said. If you can safely get the dog into a fenced area where it won't escape, that is one option. Even then, you should still call the city shelter to pick up the dog. "Animal control officers have special leashes and bite sticks to safely get the dog into a cage," she said. If the shelter is closed and unable to send someone promptly, she said to contact the police. Also see our post on what to do if an off-leash dog approaches you.
Is a shelter really a safe place for a lost dog?
We can't ignore the numbers. Somewhere between 3 and 4 million dogs and cats are killed in U.S. shelters each year, according to the Humane Society of the United States. This statistic is enough to make some people hesitant about bringing a healthy, lost dog to a shelter. Will the dog make it out alive? Laird said one thing you can do is contact your city shelter and ask about its policy regarding stray dogs. "Some cities require that if a citizen finds a stray, they must call the shelter to give them a found dog report," she said. "It is only fair that the owner is given a chance to reclaim their pet." Another option is to call the "no kill" shelters in your area to see if they are able to take in strays. For example, Operation Kindness will take in stray dogs when it has the space, according to Laird. It does not "euthanize" one animal to make room for another, according to its web site. However, this also means it sometimes turns stray animals away if the shelter is already full. "At Operation Kindness, our policy is to accept strays if room permits," Laird said.
Check to see if your area has a lost pet hotline
Another option Laird suggested is to see if your area has any sort of lost pet hotline. If that's the case, you would be able to post a description of the dog you found. Then, you would either hold onto the dog for a given amount of time to allow the owner to reclaim it. Or, you would list which shelter you took the dog to. Hopefully, by considering all the above options, you will be able to reunite the lost dog with his or her owners. Overall, the best thing we can all do is make sure our own pets are wearing ID tags. We want to make it as easy as possible for them to get home if they are ever lost. Have any of you ever found a lost dog? What did you do?