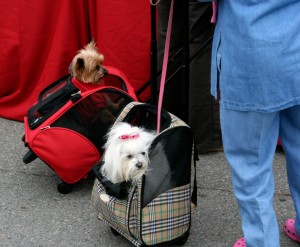 If you fly through a commercial airline with your dog, the following are some preparations you'll want to think about in advance.
Every airline is different, of course. Plus, fees and policies could change at any time. If you plan to fly with your dog, make sure to do your own research and stay up to date with that airline's specific policies. .
What to think about if you fly with your dog
Small pets may be allowed to ride in the cabin
Through Delta, United Airlines and American Airlines, some pet dogs and cats may ride in the cabin if they are confined to a kennel that fits under the seat directly in front of you, according to their web sites.
Obviously some planes have more room under the seats than others, so you would need to check in advance to make sure your specific plane will have room for your pet's kennel. Get the exact dimensions so you know for sure that your pet's kennel will fit.
Large dogs will need to ride with the checked baggage
Larger dogs are typically not allowed to ride in the cabin of the plane and must ride below unless they are service dogs.
Cori Solomon has flown with her Saluki dogs, which are too large to ride in the cabin of the plane. She said she hasn't had a bad experience flying a dog in the last five years, partly because she takes the right precautions.
For example, Solomon said she always checks with the airline to confirm all the rules about flying with a large dog. She recommends dog owners check to make sure the specific plane will be able to accommodate a kennel large enough for their particular dogs. Certain planes or airports may not be able to accommodate kennels beyond a certain size.
Cost
I was under the impression that cats and small dogs could ride in the cabin of the plane as carry-ons for no extra charge. Not so. There is typically an extra pet fee.
Through Delta, United Airlines and American Airlines, that fee is around $125 each way for U.S. domestic flights, according to their web sites. If you have a larger pet that must ride below the cab as baggage, that fee is typically higher.
Through American Airlines, that fee is $175 each way, according to its web site. Delta's web site says it charges $200 each way.
The day of the flight
When she is flying with a dog, Solomon said she typically gets to the airport about two hours ahead of time. She makes sure her dog goes to the bathroom before she leaves for the airport and again about 15 minutes before the dog is given to TSA. Most airlines have a designated area for you to take your dogs to relieve themselves.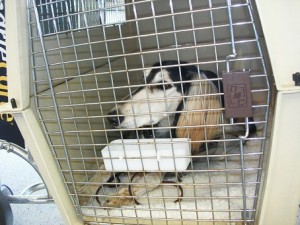 To help a dog feel calm, Solomon uses calming remedies. She sprays the remedies in the crate, on the dog's paws and in the dog's mouth.
David Bakke flew from Atlanta to Miami with his large dog, and he said it's well worth it to pay extra for a direct flight in order to reduce the stress on your dog. He also suggested dog owners feed their dog a moderate meal a few hours before the flight to reduce the effects of any motion sickness.
As an extra precaution, Solomon said she makes sure the person picking her up has paper towels and a trash bag on hand in case there is anything to clean up.
"I once came off the plane to quite a mess," she said.
Boarding the plane
Once she's on the plane, Solomon lets the staff know she has a dog and to make sure they tell her the dog is safely on the plane. If she can, she tells the captain to check on her dog. She also tells the flight attendants. In most cases, someone will find her seat and let her know her dog is on board.
"I often hear over the loud speaker before take off, 'Ms. Solomon, your dog is on board.' Or in one case, 'Zoe is on board,'" she said. "Everyone on the plane clapped as I blushed in surprise."
Weather restrictions
While you want to get to your destination, Solomon said it's important to remember your dog's safety comes first.
For safety and liability reasons, airlines follow certain regulations for when pets can and can't ride as checked baggage based on temperature. Keep this in mind when you're planning your travels.
For example, Delta does not allow pets to fly as checked baggage if the outdoor temperature is below 10 degrees F or above 85 degrees F, according to its web site. It also does not allow pets to fly as checked baggage between May 15 and Sept. 15.
American Airlines will not fly a pet as checked baggage if the temperature is below 45 degrees F or above 85 degrees F, according to its web site.
Is flying the best option for your pet?
I recently moved across the country with my pets, and driving was the most affordable and convenient choice for us. While I don't plan to fly with my pets anytime soon, I am glad there are some options in place if I ever do need to fly with them.
No matter what, be sure to update your dog's ID tag or personalized collar and any other dog tags you use for your dog's crate, hand carrier, etc. before you head to the airport. It's also imperative to have a good leash with for walking inside the airport or when leaving.