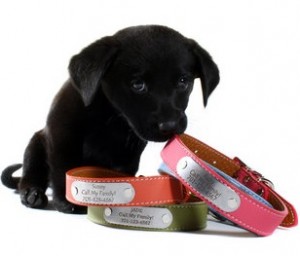 Some dog collars are made better than others. The same is true for dog ID tags. Some collars and tags are designed to last the lifetime of the dog, while others may only last a few months.
I'd like to start a discussion on when a dog's collar should be replaced for the safety of the dog. Feel free to chime in with your thoughts and let us know how often you have to replace your dog's collar and tags. .




When to Replace Your Dog's Collar or ID Tags
1. When the tags are no longer easy to read.
It's worth it to invest in high-quality pet ID tags. For example, dogIDs uses a cutting edge laser engraving technology to personalize its pet tags and collars. The company's laser engraver vaporizes and removes a few layers of metal on the tag, which leaves a clear design that will last the lifetime of the dog. So unless you change your address or phone number, there will be no need to replace the tags.
Lower-quality tags could become difficult to read with time, so just make sure to check them often. You want to make it as easy as possible for someone to read your dog's tags if he ever gets lost. His tags are his ticket home.
2. If the collar does not meet your training needs.
This is not necessarily a reason to replace your dog's collar, but you may want to consider having a second collar to use during training. Sometimes a regular, buckle collar isn't enough to control a dog or to teach the dog to walk on a loose leash. For your training needs, you could consider a martingale collar or a slip collar in addition to your dog's regular collar.
3. If certain materials don't work for your dog.
Sometimes the material of the collar may no longer work for your particular dog, according to Ashley Farkas, the merchandising manager for dogIDs. For example, her pitbull/boxer mix's skin will get irritated if any type of metal from a collar touches her skin.
"We got her a nylon collar with a plastic buckle, and she does great," Farkas said. "I tried to switch it up and do a fabric collar with a plastic buckle, and the cotton bothered her neck too, so we had to go back to the nylon collar."
4. If there is damage to the collar.
With cheaper dog collars, sometimes the plastic buckles could crack or bend, leaving them unreliable. If they're made with metal buckles, sometimes those begin to corrode if they are exposed to moisture. If you notice this happening with your dog's collar, replace it right away.
You should also replace your dog's collar if the material begins to fray. It's just not worth the risk to have the collar break while out on a walk.
A high-quality collar is less likely to become damaged. For example, the ScruffTag nylon collars from dogIDs are guaranteed to last the lifetime of the dog. The ScruffTag waterproof collars are another great option, especially if your dog spends time at the lake or beach like my Lab mix. Let's face it, cheap collars just become disgusting after a season at the lake!
5. When the collar doesn't fit.
You don't want to use a collar that is too tight or too loose, for obvious reasons. As your puppy grows, for example, you should replace her collar before it gets too tight. Likewise, if you bought a size that's too large or if your dog loses weight, you should replace it with a smaller size for safety reasons.
How about the rest of you? How many collars does your dog have? How often do you replace them?