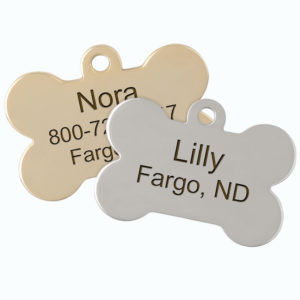 One of the biggest selling points for the personalized dog products we produce at dogIDs is that we use cutting edge laser engraving technology to personalize our tags and collars.
But most of our customers don't actually know what that means. What is laser engraving and why is it so special?
Engraved Or Just Marked?
All metal personalized dog tags that you can buy are usually "marked" in some way. Whether it's rotary engraving or a low power CO2 laser, it will personalize the tag with your information.
Rotary engraving is similar to what you see on jewelry. CO2 laser engraving is a bit easier to see, but won't stand the test of time – especially when it's being worn by an energetic dog. CO2 lasers do not engrave metals so a liquid called Cermark has to be applied to the surface being marked. The Cermark hardens, darkens and bonds to the metal to create a black mark, not a black engraving.
dogIDs Laser Engraving
That's where our method comes in. We have been engraving metal tags since 1999 and have learned that only the highest power commercial lasers will create a readable "burn" that lasts a lifetime. Our laser engraver actually vaporizes and removes a few layers of metal on the tag, which leaves a clear design that will stand the test of time. We believe in the durability of this process, which is why we guarantee the engraving for life.
There are other benefits to using a laser engraver – such as creativity. Any image or font can be engraved onto our tags, which means that we often take special custom orders from businesses, clubs and organizations that want their logo or special design on a tag or collar. No matter if its one custom dog tag or one thousand bulk tags, we like to try out new designs and see what we can create. We also have found new materials to engrave, such as metal dog bowls and reflective scotch lite strips.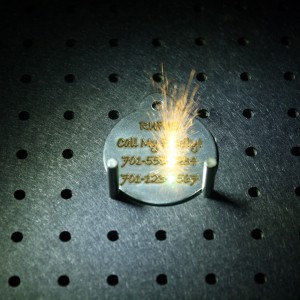 Quality is our top priority at dogIDs, so we only use the highest quality stainless steel, aluminum, brass, nickel and gold plated tags for our products. The time and material does cost more than a dog tag from a big box store, but you won't need to replace it for the entire lifetime of your pet. You can rest easy knowing that your pet's information will always be easy to read if they should get lost.
Have a great idea for a laser-engraved product? Leave your idea in the comments below!
For more information about our engraving processes that differentiates dogIDs, read this blog article as well.