Lifetime Guaranteed? Really? How?
We like to keep things as simple as possible at dogIDs; practical with absolutely no cutting corners when it comes to quality. Since this is such a strong value for us here, we believe strongly in the products we make and thoroughly field test them to make sure others will see the same quality that we do. When you believe strongly in the quality of your work and the materials you use to make a dog tag, dog collar, leash or harness, why would you not guarantee the product for life?
We've also learned that when we stand behind our products with a lifetime guarantee, we hear more feedback from our customers on the front lines. Yes, most of the time it's several years after purchase when we hear from a customer with a quality concern and many times there's a puppy with sharp teeth involved in the scenario. But regardless, this is invaluable information for us to receive, positive or negative, especially if soon after a customer receives their custom product from us.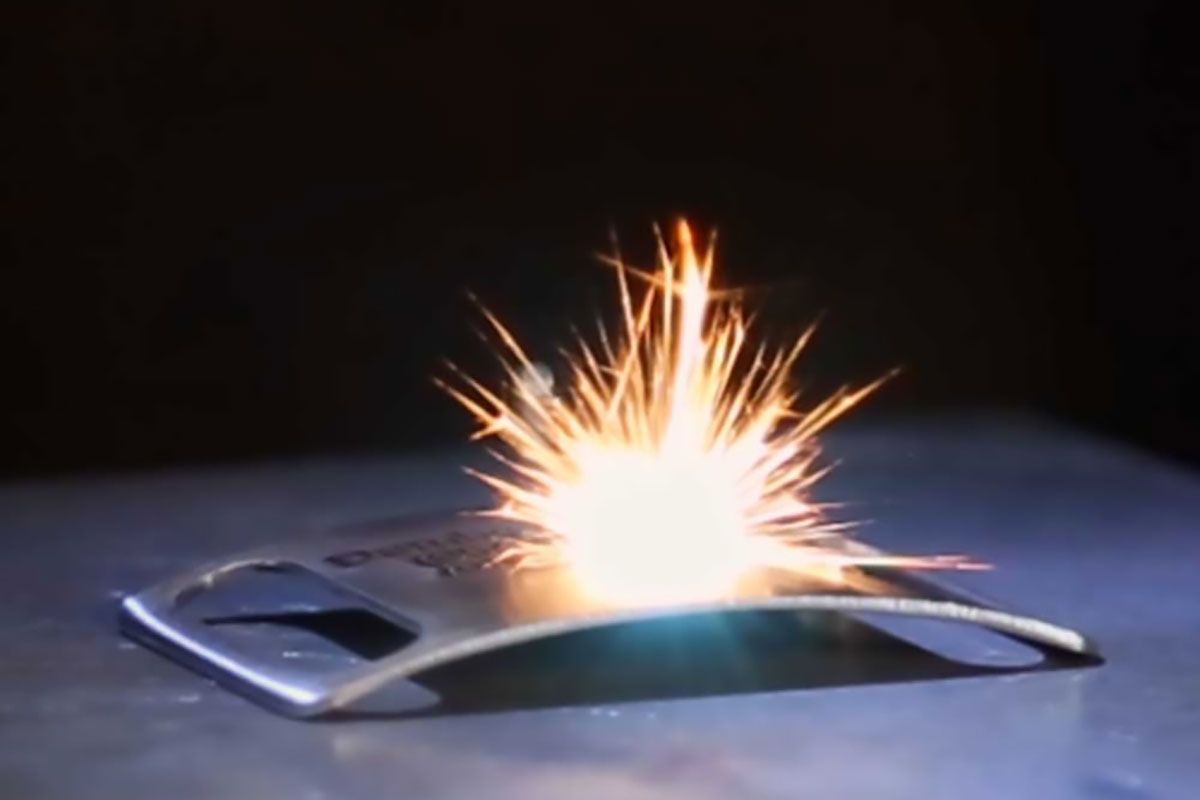 Highest Quality Materials and Processes
There are so many places to shop online for personalized dog tags, personalized dog collars, leashes, harnesses and accessories that it's hard to discern the differences in all of them. What are the differences, really? Most of the time those details are just trusted and product finish and packaging seems to influence an online purchase most. If buying custom dog accessories online, all consumers can really depend on is good quality pictures, descriptions and lots of real world customer reviews to help influence the buying decision.
Technology is improving swiftly, but we aren't at "The Jetsons" level yet for instant gratification and don't know what we are really getting until it arrives at our doorstep, so we can put it in our hands to touch it, feel it and see it directly in front of us. This is where we shine with our customers. Once they receive their product, they then know that we don't just talk high quality but actually walk the walk.
Deep Laser Engraving That Lasts the Test of Time
When it comes to ID tags for dogs, some are rotary engraved giving a nice traditional engraved look, but it's just moving metal or rolling it to the sides like a plow in a field so to speak. And the rolled edges eventually disappear. We used to rotary engrave dog tags a long time ago, before we finally realized the huge longevity increase with the right laser engravers.
Some pet tags are annealed where the metal is discolored a shallow depth, leaving a nice black mark and smooth surface. Some tags are black marked using a ceramic paste called Cermark and a low power laser to bond the ceramic to the metal and leave a nice black mark on the surface of the metal.
We Don't Take Laser Engraving Dog IDs Lightly (Pun Intended)
We've found the method we prefer for engraving pet tags is to use high power lasers designed specifically for engraving or etching hard metals. Our lasers actually vaporize and remove metal. At the same time, as our lasers remove metal, the remaining metal surface underneath turns dark and the hardens extremely. This type of engraving we use is extremely difficult to remove, IF it ever does wear off.
We see it all the time...When customers first pick up a finished engraved tag done by our lasers, the first thing they always seem to do is rub their finger over the engraving on their new dog tag to feel the engraving. It's an expected and satisfying texture for some reason that we've all learned to look for. It tells them that this dog tag had some serious work go into it and the custom text will last a long, long time. And then they usually smile of course.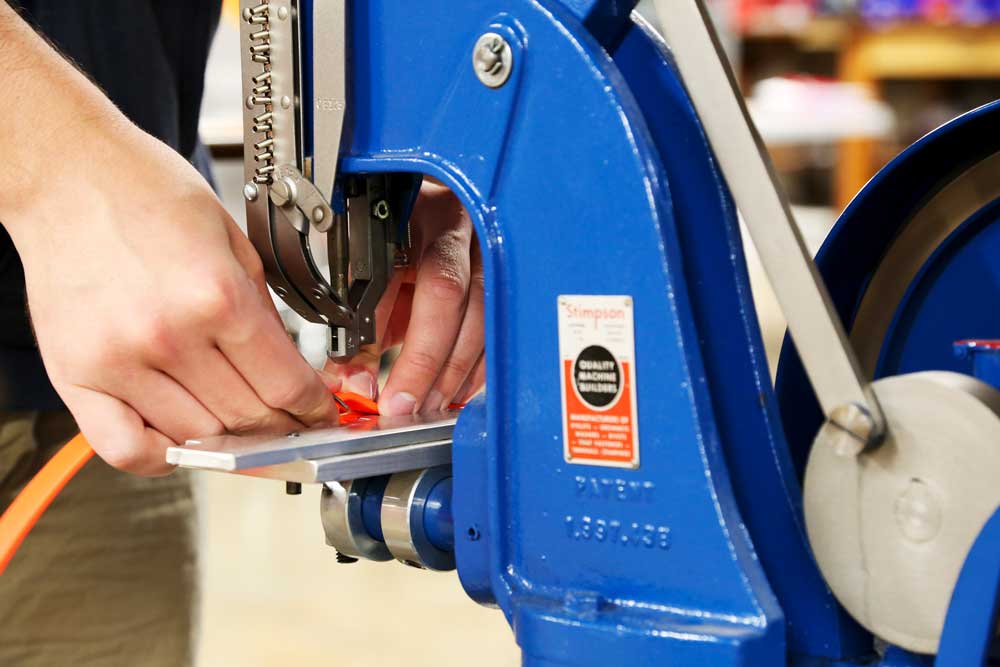 Dog Collar Hardware and Dog Tags Are Not All Created Equal
When it comes to making dog collars, ID tags, leashes, harnesses and other accessories, we only use solid brass and stainless steel hardware whenever possible. Though we do have to compromise every once in a while when supply chains are backed up for long periods, we still do our best to only order the highest quality option available. Some hardware just isn't available in these metals every once in a while, but it's rare. Yes, stainless steel and solid brass are 2-5x more expensive, increasing our cost of goods but the long term tradeoff, we believe, is priceless.
Solid Brass and Stainless Steel Dog Hardware
What we've found by trial and error over the years is both stainless steel and solid brass are extremely durable and maintain a beautiful classy look for a long, long time, especially for dogs that are in water often, and even more importantly if in salt water regularly.
In comparison, plated metals like zinc or other less expensive steels can crack, peel, fade, corrode or discolor over time. In some cases we do use gold-plated or nickel plated dog tags but when we do, we make sure they are plated solid brass or plated stainless steel cores to make sure they don't crack, corrode, flake or peel over years of use.
Many plated dog tags on the market look great when new but since they have low cost metal cores, eventually crack or corrode. Let's face it, dogs are very hard on whatever they wear. If you want to test a product for durability, just put it on a dog for a short time and see how long it lasts. Collars for dogs take a lot of abuse especially, no question.
Now D rings, well, that's a special consideration. D or "dee" rings need to be extremely strong since people attach leashes and tie outs to D rings on collars. It can't be a weak link. They need to be forged and welded stainless steel or solid brass for extreme durability and safety.
There's nothing worse than hearing a customer horror story about a D ring breaking while walking their dog, causing a lot of drama or worse yet, putting their dog in harms way. No cutting corners with D rings here at dogIDs. Stainless steel or solid brass, forged and welded. Period. No matter who you buy a dog collar from, always make sure the dog collar you put on your dog's neck has a high quality D ring, for peace of mind and your dog's safety.
Webbing is Just Webbing, Right? Wrong!
What are the differences in nylon or polypropylene webbing products, you ask? Why are some nylon collars less than $10 and some approach $50?! Well, there's a big difference there too in benefits and raw materials cost.
Over the years we've found our favorite source for silky smooth yet thick and super tough nylon webbing, which is our preference. This is another difference that can't be conveyed online. But once you get them in your hands, wow, what a huge difference. The products made with this webbing feels so soft and substantial at the same time. And we always sew our nylon collars with thick, strong nylon thread. There's no substitute for comfort, longevity and strength in our opinion.
Waterproof Strap for Your Forever Dog Collar and Leash
OK, so how about waterproof strap? We've used many types of waterproof strap over the years to make dog collars, leashes and other dog accessories, and have put them all through years of field-testing. We stay dedicated to Biothane brand waterproof strap as it has the subtle differences we and our customers appreciate. It stands up to UV light best, doesn't crack in subzero weather and maintains its soft feel much longer than the other types on the market that have copied their waterproof strap. And we don't just use the least expensive Biothane strap. We always use the thickest available to make sure they are as soft in-hand and durable as possible.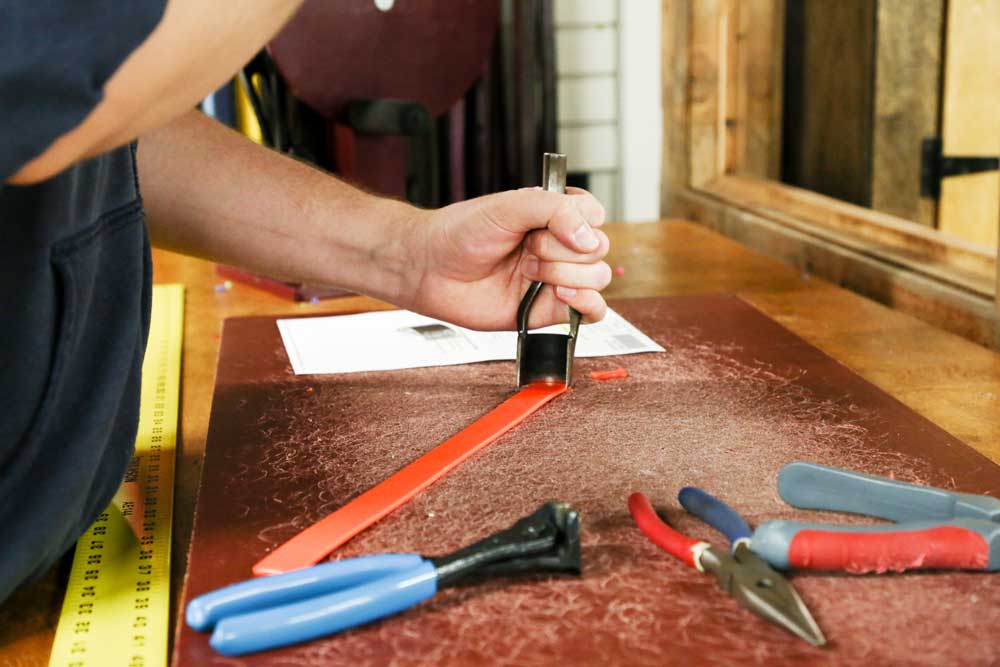 We Make Our Dog Collars, Leashes and Harnesses by Hand
Why is a handmade dog collar, leash or harness better than one made by automated machines? Well, there are tradeoffs. Our dog collar, leash and harness production processes are slower than other manufacturers using high speed equipment, and they probably aren't quite as exact in specification. BUT by making dog collars and accessories by hand, our attention to detail can't be compared, and each rivet and stitch is double-checked by human eyes to make sure they are robust and look great. And this may sound corny but each of the dog collars, leashes and harnesses made by human hands in our shop has a dose of love from our team going into it.
Dog Collars, ID Tags, Leashes and Harnesses Made in the USA
We're proud to promote the fact that all of our products are made in the USA. Yes, it would definitely be a lot less expensive and more profitable for us to import our products from other countries. However, we wouldn't be able to control the quality of our products as closely, and we wouldn't feel as good about shipping a finished dog collar, leash, harness or ID tag out to a customer if we didn't actually make it from scratch with our own hands.
We also love our made-to-order business model, which allows us to offer customization to our customers, especially with our personalized dog collars. That wouldn't be possible if we depended on other vendors to make our products.
In addition, by making our own products in-house, we aren't supporting child labor and horrible working conditions practiced by some international manufacturers.
If you're looking for a custom pet ID tag or custom dog collar for your dog, or any other dog accessories and want to feel sure that the product you receive was made by someone who cares about what you think when you receive it, you can put your trust in our pack here at dogIDs.