Deep Laser Engraving is Our Differentiator at dogIDs
Here at dogIDs we promote our dog tags for dogs and pets, personalized dog collars and personalized dog accessories as having deep laser engraving lifetime guaranteed and vehemently stand behind this. But why? Well, every once in a while I have to do some experimenting to remind myself why. And every time, I'm completely amazed at how difficult it is to physically remove our laser engraving from any of our engraved products. I then rest assured that our laser engraved dog tags and personalized dog collars always have clear readable contact information on them so our customers' dogs are returned if ever lost. The marks just don't wear off, even after years of wear and tear from the rowdiest of dogs.
Most of our competitors use much less expensive equipment that makes a nice black mark but actually doesn't engrave (vaporize/remove metal) nor does it harden the remaining surface underneath the mark like our lasers do. There is a BIG difference.
I wanted to engrave one of our stainless steel dog bowls for Syrus, our family Great Dane, and I knew using a stainless steel bowl with a large surface area would be more easily demonstrated to our customers instead of a tiny tag. Instead of just engraving a new bowl though, I chose the difficult route of removing the engraving from a used bowl and then laser engraving a new name over the top of the original engraved area of the bowl. I like to recycle whenever I can but boy was this a long arduous task.
I'll spare you all of the details but when all was said and done, it took me over an hour with an orbital power sander to finally sand off the old engraving and polish the surface so I could engrave "Syrus" on the bowl without any remnants of the old engraving. Well, OK, over two hours since I took several breaks...Yes, my forearms needed to rest a few times.
Since I was using a stainless steel dog bowl with a very large laser engraved mark, I thought I would share some pictures of the finished re-engraved personalized bowl so you can see firsthand how robust our laser engraving really is. Yes, I should have polished the bowl better after grinding it down but didn't want to spend more time doing so. Below is the re-engraved bowl as well as some close up shots of the engraving.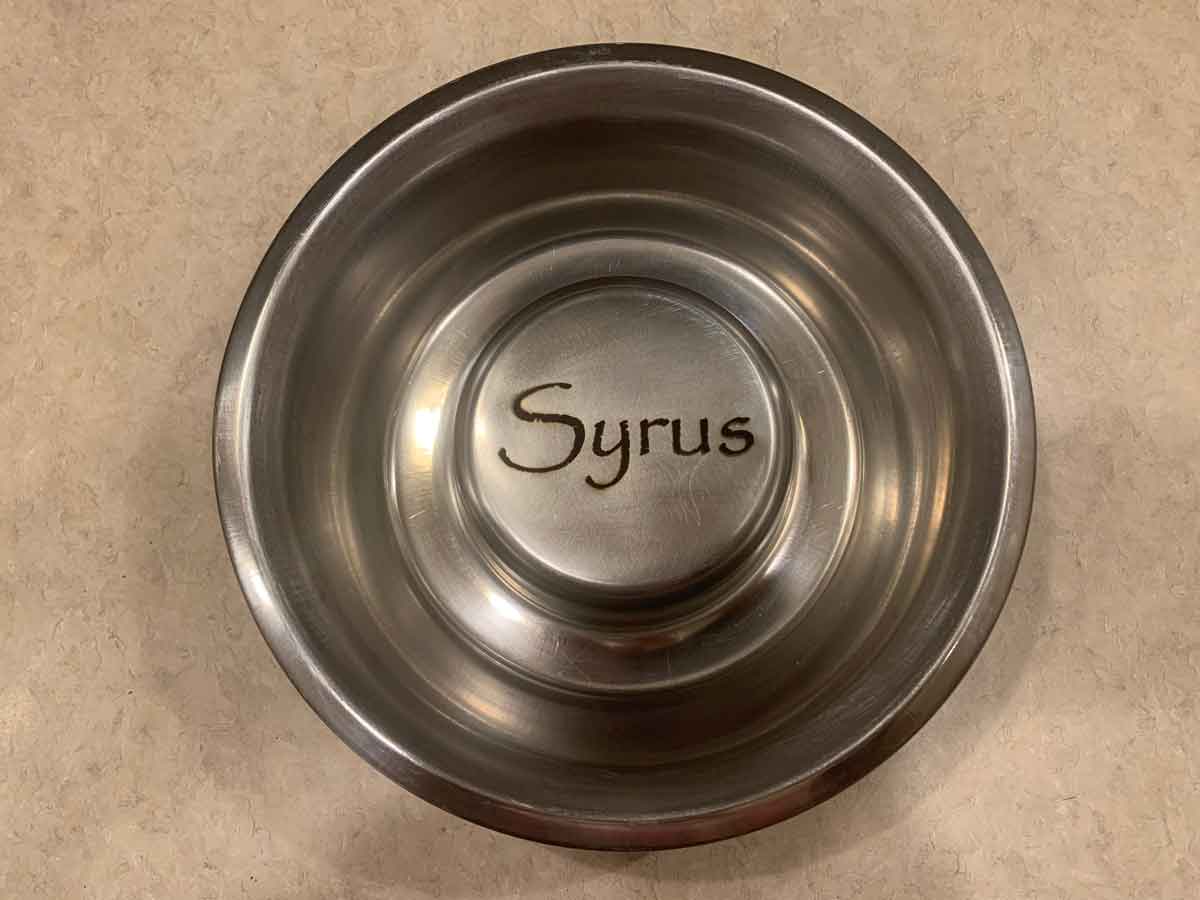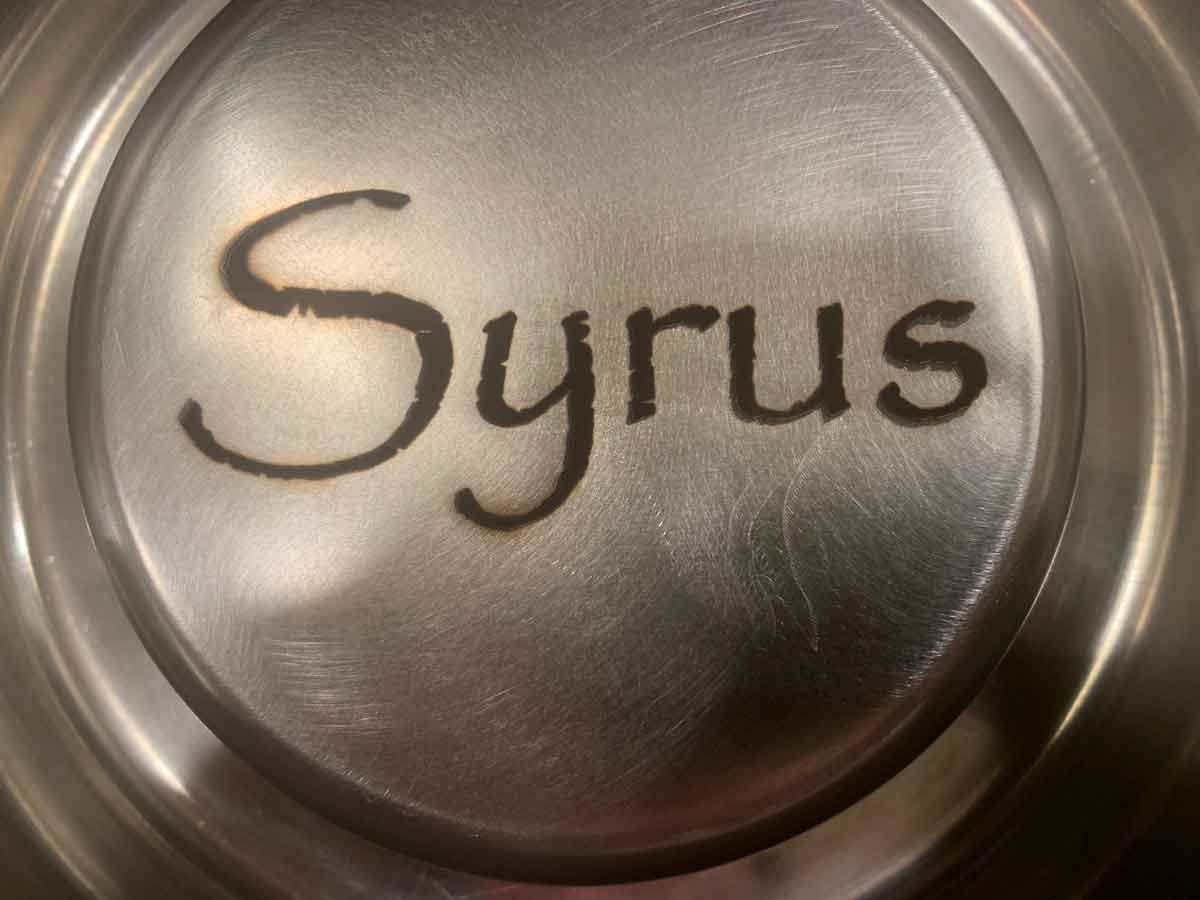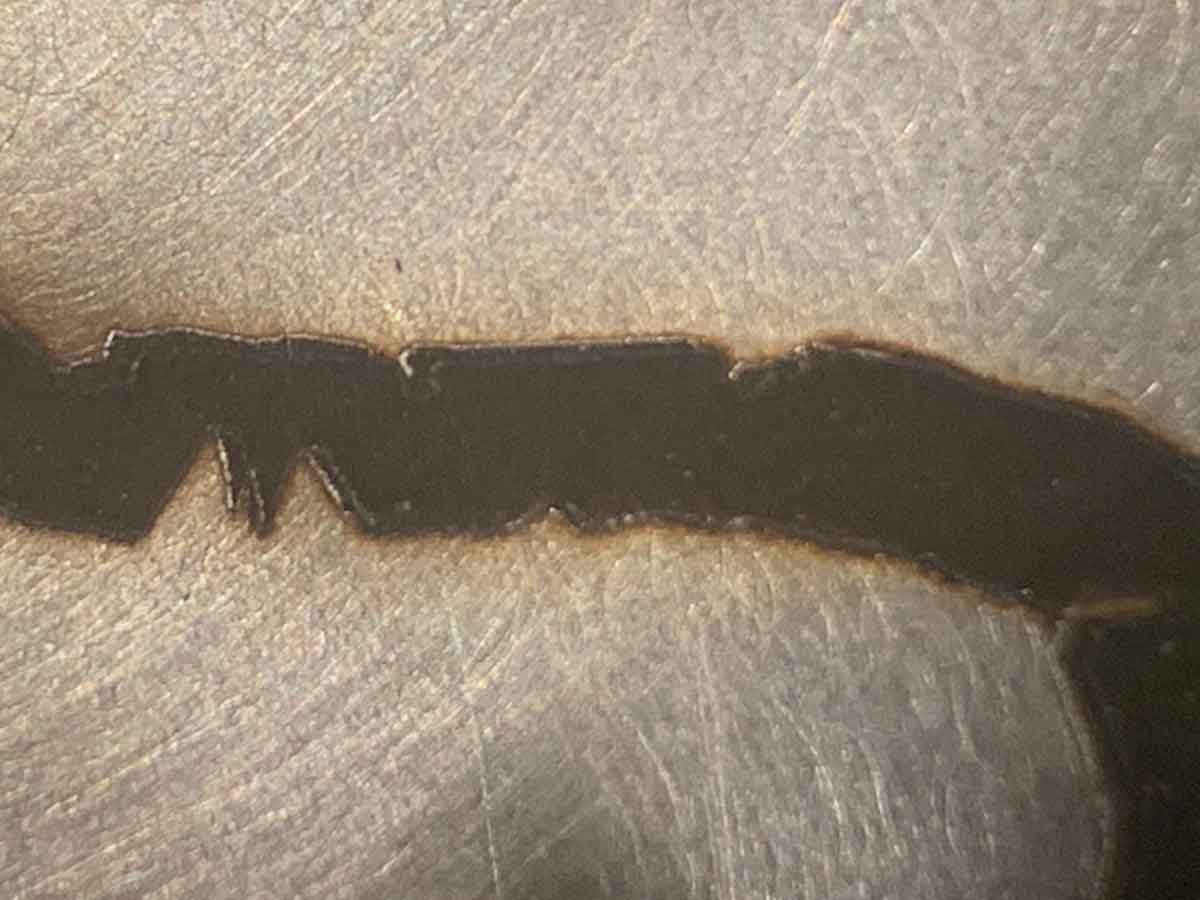 Yes, there are many manufacturers out there laser engraving custom dog tags and dog collar name plates but I've yet to find any that match the durability of ours. We use laser engravers specifically designed for deeply engraving and etching stainless steel and brass. Yes our engraving process takes longer and is a little more expensive but the end product is worth the extra focus and effort. Personally, I'd rather buy dog ID tags for my dogs knowing they'll last as long as I need them to rather than buying one per year or even more frequently due to the engraving becoming unreadable and I'm confident our customers feel the same. Ultimately, peace of mind that any dog wearing one of our laser engraved tags or collars will be "Known and Safely Home" is THE most important consideration. I hope this rudimentary demo helps you see for yourself why we put so much extra effort into our engraving at dogIDs to make sure our dog tags and engraved name plates stay readable as long as possible.