Do goats need collars?
Just like with dogs, it's important for goats to have collars with up-to-date information. This is the best way to ensure that, if your goat were to ever get lost, you as the owner could be found and notified.
As far as determining the right collar for your goat, think about their personality and habits: Do they remain in one area, without wandering too much? Are they free to wander at night? Do they like to get dirty? Do they like to be led on walks, or are they shown around town?
This blog will serve as your ultimate guide to finding the right collar for your goat.
What size collar should I get for my goat?
All dogIDs collars are True Sizing collars, meaning they're made to perfectly fit around your dog's (or goat's) neck. A great resource for finding the best fit for your goat is our video on how to measure your dog's/goat's neck for a dogIDs collar. It will give you step-by-step instructions on finding a good fit for your goat.
What are the best collars for goats?
Already have a good idea of what you or your goat is looking for in a collar? Perfect! You check out our blog post about picking the right collar for your dog.
If you have no idea where to begin when it comes to looking for a collar for your goat, here's a breakdown of the different collars we offer and what goats they're perfect for: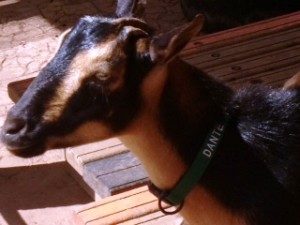 Did you know dogIDs already makes
collars for goats? All you have to do
is ask!
Perfect for: Goats that don't get too messy and like to show their personality. Nylon is super comfortable and perfect for a mellow goat. Our nylon collars are also able to be personalized, with different colors to match your goat's style.
Perfect for: Goats that get messy, love to swim or hop in puddles. Just as the name suggests, our water and odor-resistant collars are easy to clean and maintain. For goats that like to get down and dirty, these are great as they require little effort when it comes to cleaning up.
Perfect for: Goats out and about at night or goats left to wander. Out in the country, or even in the city, animals are susceptible to not being seen by passing vehicles. Reflective collars catch the light and send it right back, giving a goat visibility and an added layer of protection.
Perfect for: Tough guys (or gals) or comfort kings (or queens). Leather collars are extremely durable and can withstand the test of time. They're also super comfortable. Italian leather is very soft. There are also padded leather collars, so if you're worried the leather may dig into your goat's neck, the padding keeps them comfortable and lookin' good. There's plenty of space for goats to express themselves, too. Our leather collars are able to be personalized with nameplates, scruff tags or even rhinestones or shotgun shells.
Perfect for: Goats that are walked around, goats that like to pull and goats being led. Martingale collars work by cinching the size of the collar the more an animal pulls. Martingale collars are the easiest way to prevent your goat from taking off your arm or keeping them securely by your side. Our martingale collars come in three varieties: nylon, which can be personalized and comes in plenty of fun colors; chain for added strength; and fleece, which has a wider width for added comfort and safety for your goat.
Perfect for: Goats that love to explore and goats not confined to a pen. A concern with goats is that, with a collar, they will get caught on fences, brush or each other, and gravely harm themselves. Safety collars are designed to pivot, allowing a goat to relieve pressure from their neck and safely back out of a potentially dangerous situation. To see exactly how a safety collar works, visit our YouTube video.