Which Custom Collar is Best for Your Dog?
If you're new to the dog world, you might be confused when it comes to choosing the right one for your new canine family member. There are so many options, brands, designs and materials - How could you possibly choose the best one, especially a custom collar for your dog?
Every dog is a little bit different in what they need. The best way to pick the right collar for your pooch is by breaking it down into the different qualities you need.
Step 1: Choose a Collar Style
We'd recommend first deciding which overall type of collar you prefer and/or fits the majority of your needs. You need to decide early on what you want the collar to do for your dog. Are you going to be using it for everyday wear and identification? Training? Walking?
Does your dog have collar style requirements for the dog park, doggy day care, etc?
Here's a basic breakdown of the main types of dog collars you can choose from:
Traditional Buckle Dog Collar

This is a dog collar with a prong style buckle and collar strap with holes punched in it for adjustment. Think of it as a human belt buckle. This style buckle works well for dogs that wear their collars continuously as these buckles are a bit harder to undo regularly. They are commonly found on leather dog collars.
Quick Release Buckle Dog Collar


This type of collar comes with a plastic or metal buckle that has female and male buckle ends that clasp together. Generally, the buckle will hold tightly when it's being pulled on, but when the side latches are pressed with your fingers, the latch mechanism disengages allowing the collar to be removed easily from your dog's neck.
A quick release buckle collar is sometimes required at certain boarding and doggy day care facilities because it makes it easy to remove a dog's collar if they were to get it caught on something or get caught up in any type of chaotic situation requiring quick removal.
In the cat world, there is a variation of this buckle for cat collars called a breakaway buckle collar. A breakaway buckle unlatches if enough pulling force is applied to the collar or latch. If the collar gets stuck on something and your pet tries to pull away, the latch will release and the collar will fall away, freeing them much more easily. While we do recommend this for cat collars, we don't recommend breakaway buckles for dogs often. When dogs put pressure on their collars while on a leash or tie-out, the collar coming off could put the dog in serious danger.
Safety or Center Ring Collar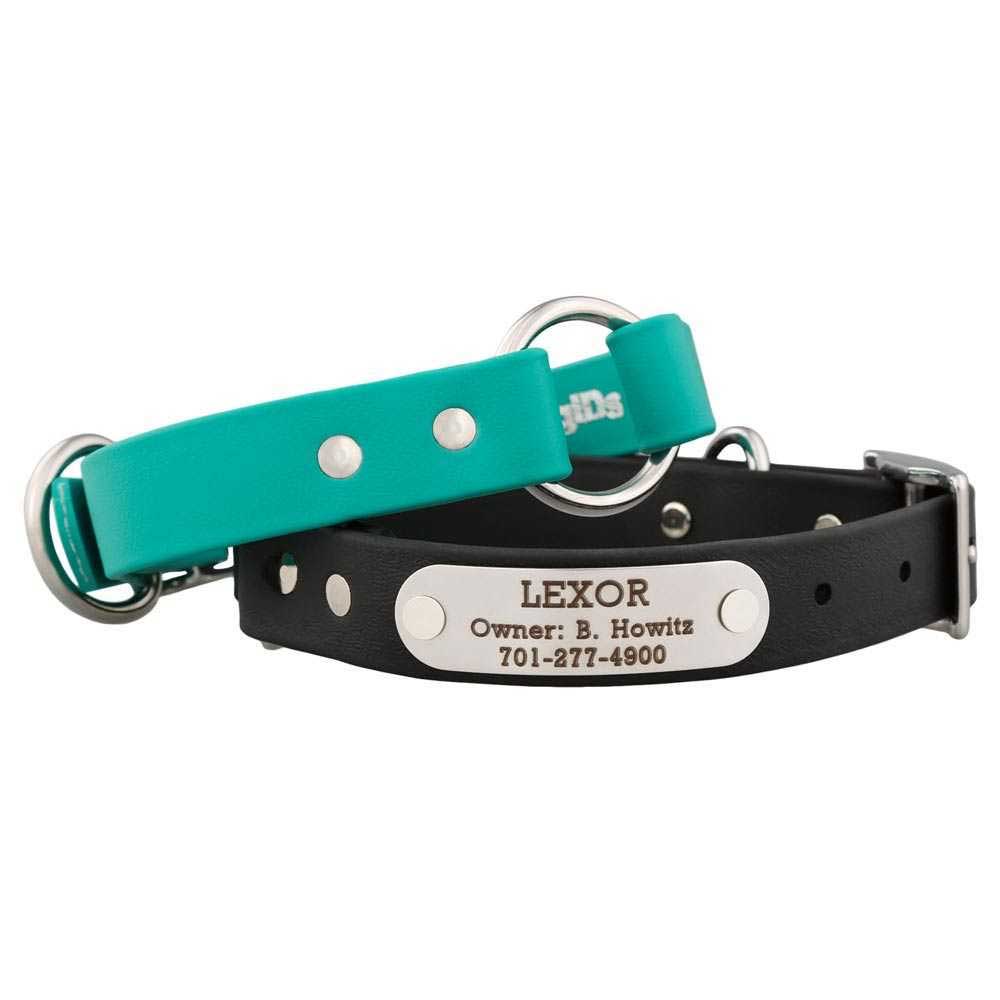 This type of collar is common for hunting dogs and other working dogs that are routinely navigating through rugged terrain and obstacles or dogs that have a larger area to roam where they could possibly get stuck on something like a fence or tree branch. A safety collar has an O-shaped ring built into the collar about halfway between each end. This O-ring provides a pivot point for the collar straps so it doesn't twist and squeeze your dog's neck and the pivot point also allows your dog to slip out of the collar more easily if stuck on something. That way, if your dog gets their collar stuck on something, the collar won't choke them and they can more likely slip out of the collar. You can learn more about the safety collar here.
A martingale dog collar is perfect for dogs that back out of their collars often or need correction during training sessions. When walking, it gives the pet parent a bit more control over your dog. Martingales are a great alternative to slip or "choke" collars as the amount of cinch is limited and is applied more evenly around your dog's neck. This means martingale collars are much less likely to cause harm to your dog's trachea when your dog is pulling compared to a slip collar. Martingales also can actually give your dog a sense of calmness since they apply a moderate even pressure around your dog's neck when pulled on, kind of like a security blanket if you will. Learn more about martingale collars and how they are used here.
The ScruffTag collar design is unique to dogIDs specifically. It was developed by our founder, Clint. On any of our custom handmade ScruffTag Collars, the straps of the collar are built into a large rectangular ID tag. This way, the personalization that is engraved onto the ScruffTag name plate always rests on the back of the dog's neck instead of hanging below their mouth. If your dog gets lost and a stranger finds them, they can easily read the the large deeply engraved contact information engraved on the ScruffTag needed to return your pet to you, most of the time without even physically contacting your dog to read it. Some people are intimidated to reach under a dog's jowls to find a pet ID tag or personalized collar buckle for fear of being bitten or drooled on so ScruffTag Collars eliminate that variable, increasing the odds of the finder contacting you and returning your dog.
Additionally, our custom ScruffTag collars can be made with different types of buckles and materials so that you can design it just the way you want.
While technically this is not a type of dog collar, this is totally an option to consider for your furry friend. If you have a dog that is a strong puller or has a delicate neck, a harness is a great alternative for walking. By putting the pressure of the leash clip on the dog's body/chest instead of their neck, it's much easier to control them and avoid injury.
Step 2: Choose a Dog Collar Material
Now that you've narrowed down what you need for a collar style, it's time to think about the material you'd like your collar to be made out of.
You may be looking for a collar purely for looks or you might be looking for durability. Your dog may have sensitive skin, so you need something that won't exacerbate that issue.
Here's a breakdown of the different collar materials you can pick from:
Nylon webbing is one of the most common materials dog collars are made with. It's usually less expensive and gives you a lot of options for colors and designs. It's also pliable, so a great option for smaller dogs or dogs with more sensitive coats. The nylon webbing we use at dogIDs is a proprietary blend that feels silky soft and is quite thick compared to other nylon colors on the market. It took us years of trial and error to find the nylon webbing that we love and trust and once you hold a nylon dogIDs collar in your hand, you'll definitely feel the difference.
However, nylon is not the perfect material for every dog. If you have a dog that spends a lot of time outside or gets wet all the time, nylon collars can get pretty dirty and stinky over time. They also don't usually last as long as other sturdier materials like waterproof Biothane strap or leather.
If you like the idea of nylon, but your dog has nylon allergies, we also have polypropylene webbing or braided rope collars. Our polypropylene webbing collars have a grosgrain ribbon sewn on the outside of them, which is usually embroidered with your personalized contact information so that's the best way to identify them while browsing our online store.
Waterproof Biothane or Soft Grip Collar

This urethane and vinyl coated polyester webbing looks and feels very similar to leather with several added benefits. Not only does it look great and come in tons of colors and patterns (even reflective), but it is incredibly durable. It can hold up to water, smells and extreme temperature changes, making it a dog owner favorite. Don't be fooled by the knockoffs (we've tried them all and they don't hold up as well). And keep in mind that we've been working with Biothane strap since the late 90's. Through many years of field testing, we've determined the best variations of Biothane strap to make our collars and leashes with, which we call Soft Grip. Biothane makes hundreds of variations of waterproof strap. We use a super heavy version. Yes, it's more expensive than the Biothane strap most of our competitors use but it's substantially thicker, heavier duty, and since it's thicker, it has a very nice soft feel to it when you grip it…Hence "Soft Grip". This heavy duty strap also stands up to extreme temperatures and UV light much better which adds years of use without cracking or fading.
This material is a great fit for active dogs, especially water-loving breeds and those pups that love to roll in the stinkiest things they can find. It can hold up to pretty much anything your dog can throw at it! Plus, it comes in variations that have reflective strips built right into the collar strap for added safety.
Leather is the traditional material type for dog collars. There's something very elegant and classic about a dog wearing a leather dog collar. That being said, leather is not just for looks! Because of the way our leathers tanned and made for dog collars, they have some additional protection from the elements…are extremely durable. Our leathers also soften over time and exposure to your dog's natural oils.
We carry a few varieties of leather material types, including English bridle leather and padded leather custom dog collars. And yes, they are handmade in the USA, including the leathers they are cut from. The bridle leather collars are a better match for larger breed dogs with active lifestyles while the padded collars work great for dogs with sensitive skin or really long necks.
Step 3: Personalize Your Dog's New Collar
At dogIDs, we want to increase the number of dogs that get returned home. The best way to do this is to make sure that no matter which style of collar you pick, you personalize the collar with your most important contact information. Whether your dog's collar is engraved or embroidered, it's important that your dog carries your contact information on them at all times so they stay known and safely home! Personalized dog collars are our specialty at dogIDs and we've been making them for decades.
Want more information about dogIDs collars? Check out these other articles on our blog.
Martingale Dog Collars for Training